Epic team rider and Czechoslovakian native Mira Ptacek (Miroslav) began his fascination with kiteboarding after seeing people riding waves on the ocean side of the OBX. "I told myself I need to do the same thing like those guys, riding waves!" he recalls with excitement. "I started in May of 2011 at Kitty Hawk Kites where I took two full days of lessons," Mira continues. "I struggled for 3 weeks to stay upwind! I remember those days like it was yesterday... As a matter of fact, I was riding at Jockey's Ridge yesterday and had to relive that experience and walk back upwind with the kite...it's a pretty good work out, lol."
When asked about memorable kiting moments and experiences, Mira states, "I think everyday is my biggest kite moment as I push myself to learn something new everyday. The other day I focused on my kiteloop technique and going bigger. I really love the challenging riding conditions that the ocean brings – I have respect for riding big waves and jumping really high, just enjoying nature! I'm Aquarius, so the ocean feels like I'm right in my element."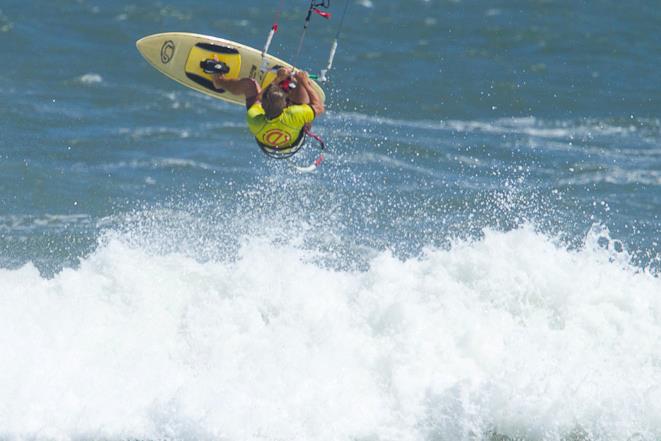 Mira takes full advantage of Jockey's Ridge, which is right in his backyard. "It's a really nice place to be...and because my friends ride there too, there is a great local community feel which is really positive," he says. On introducing people to kiting and teaching them, he says, "I love instructing but speaking two languages, English being my second, forces me to connect in new ways to students, which is a challenge and opportunity. Anyone that speaks two languages will understand that. I really like dealing with people, reading them and finding the best teaching solution for them and their progression. I'm proud to be teaching them the greatest sport ever!"
"I'm lucky that I get to ride a lot with Dimitri, I've learned so much from him. I'm not at his skill level but a lot of people tell me that we have a similar riding style! That's a big compliment. Dimitri provides a lot of great input for me and is a great inspiration. I have a lot of respect for him," Mira says.
Mira's favorite set-up is the Renegade 9 kite and Droid board. "It's just really easy to kite freestyle, or freeride and I can jump pretty high with that kite. It's so fast and powerful," he says.
"I'm really proud to be part of the Epic family! Some people think that I look like Dimitri from a distance. I found that very funny and it makes me smile. Blue eyes…, accent… I guess I can see it, but Dimitri has skills that are 150% better than mine, although I'm catching up!" he says. Clearly, Mira is modest, but if you want to see for yourself, visit Jockey's Ridge next time you're in the OBX and introduce yourself. Mira's the guy busting huge airs and super smooth rolls. If that's not enough to identify him, look for someone that looks like Dimitri… but isn't.